Welcome!
Old Zion Church
Brickerville, PA
Please note all activities subject to change.
Old Zion German Reformed Church
Established 1747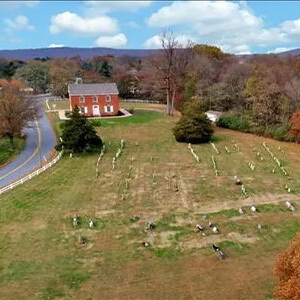 HISTORY
A community of German Reformed farmers purchased a three-acre plot of land from Sebastian Royer in 1747 to build a church.  The informal congregation originally gathered in a log cabin at this site.  Prior to 1747, this group of German Reformed farmers held services in their homes as early as 1732, led from time to time by the tailor John Conrad Tempelman.
The present brick building was constructed in 1813 by Emanuel Deyer.  Jacob Hollinger, a member, furnished the bricks.  The hand-carved communion table in front of the pulpit was crafted by Wendel Laber in 1743.  The wine glass pulpit is a restored feature of the original to the building.  The Federal style building includes a three sided first floor and balcony seating above.
In 1752 the congregation's first ordained minister came from Germany to serve a congregation of about 60.  Approximately 22 pastors served Old Zion.  At the same time, these pastors also served with a number of other churches in the surrounding communities.
From 1870 to 1891 the congregation grew from 225 to 385 members.  By 1906 the congregation dwindled to 34 members.  From 1948 until 1952, the building and grounds deteriorated without a congregation.  The Men's Brotherhood of St. Luke's United Church of Christ (UCC) in Lititz initiated repairs and maintenance of the building and property.  In 1958 the interdenominational board of directors of Old Zion was organized.
For more information email at oldzionchurch@gmail.com